2023 DEPARTURES
16 DAYS | 15 NIGHTS 
TOUR 1: 21 January – 5 February 2023
AVAILABLE
TOUR 2: 8-23 February
2023 AVAILABLE



Africa – a beautiful and mysterious continent.
It is rich in history, culture, incredible wildlife and much intrigue that links them all together. There are numerous options for travel throughout Africa but from our personal experience of living, working and both travelling extensively in Africa, East Africa is what we call 'The real Africa'.
Spend time with us as we dissect the best of Kenya and Tanzania. Our circuit will have you travel out to Lake Nakuru National Park, home to the masses of pink flamingo. You will safari through the Maasai Mara National Park, home to the famous Maasai warriors. You will be staying on the shores of Lake Victoria, the source of the mighty Nile River. You will witness the daily struggles of survival within the animal kingdom as it plays out in the vastness of The Serengeti and Ngorongorro National Parks.
You will feel like you are part of a David Attenborough documentary. Believe us when we say it is much better than watching it from the comfort of your own loungeroom.
You will pass at the foot of Africa's tallest mountain, Mt Kilimanjaro before crossing the border back into Kenya where you will enter The Amboseli National Park. This park has been said to be the greatest place in the world to see large herds of elephant roaming the plains, often with the snow covered peak of Mt Kilimanjaro as the backdrop.
You will see large herds of grazing animals such as Zebra and Wildebeest. They always work their way across the vast plains in search of good grazing grasses often unaware of the stalking pride of lions in search of their own next meal.
We will look high up in the acacia trees for the elusive leopard as it awaits the unsuspecting gazelle to walk by. Herds of elephant will be making their way to their favourite waterholes hoping not to have to share it with too many other animals. We will be fascinated by the fun antics of the baby warthog as they play with no concern at all, of the possible danger around them.
We will get you up close and personal to this awesome wilderness experience as we chase the action in 5 of the best National Parks in Kenya and Tanzania in search of the magical Big Five. At the end of each day you will need to settle back and relax in the comfort of your Safari Lodge or Safari Camp to be able to absorb all the wonders of the day's events. You may just want a tall G&T in your hand as the sun sets to consider just what part of the day was your major highlight.
If this sounds like the adventure you have always dreamed of then come on this adventure with us.
Gools and Thommo have one main focus on this trip, and that is to immerse you into the breathtaking experience of this wildlife kingdom while enjoying the company of a great group. Our small fleet of individual safari vehicles will allow great access to the National Parks. Our nights will be spent in well-established and superbly located Safari Lodges or where possible, Safari Camps out in the wilderness.
There are some great tour companies out there but they all tend to follow the same path and the same style. We are not re-inventing the wheel but feel that our 'product' has some very distinct differences and some personal touches that make our travel experience quite unique. For our existing G&T Clubbers, you know all of this but for the benefit of our new comers and of course your immediate family and friends who we invite to join you please see below how we differ.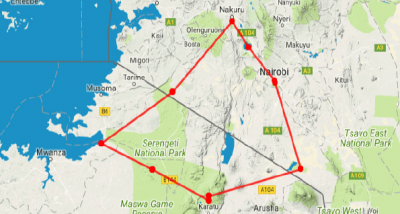 We wanted to develop an interesting itinerary with natural flow to maximise our time and experience. Rather than travel in one big overland truck we have arranged for several safari vehicles, so we can travel in smaller groups. As the itinerary has us traversing many of the National Parks on our travel days, the added bonus is that we actually are on game drives as we travel. Due to this feature our drive times will always vary depending on what action we come across on any given day. This gives us complete control and flexibility. We will encourage you to share the experience with different people as you can swap and change vehicles as you wish.
CLICK HERE to view an interactive version of the tour map online
We have made sure that we have several multi night stops as the accommodation is equally a part of the experience as are the animals. Our choices were made with great consideration of location and proximity to the action, spectacular views, style, feel and facilities, not just to a Star Category. Some ground operators like to run a programme with a consistent star rating, but Donna understood that we wanted to be a little different and offer a variety, so we can take full advantage of what's on offer. Also, many of our activities kick-off right from the lodges or camps so the excitement builds immediately from the start of the day.
Unlike other destinations we don't have the option to choose our restaurant dining experience. It is therefore important to make sure that our lodge or camp has a great dinning option within. We have relied on Donna to point us in the right direction here. Remember that all meals are included at the safari lodges and camps which is costed in as full board. Those of you who have been to India and Sri Lanka know that we personally chose each restaurant from our own research and experience. This is not an option on an African safari, so it is important to choose great lodges and camps with a proven reputation. We have also checked that the most obvious dietary requirements can be catered for.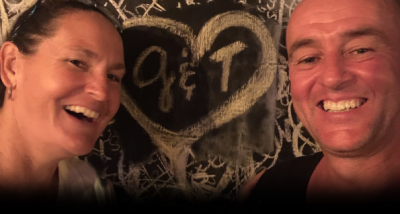 Having both Gools and Thommo along as hosts gives you something no one else can match. We will be with you the whole time looking after you personally. On top of that we will also have our National Tour Guides, separate for both Kenya and Tanzania. Our safari drivers will be with us each day we travel and where applicable we will have our lodge and camp staff assistants.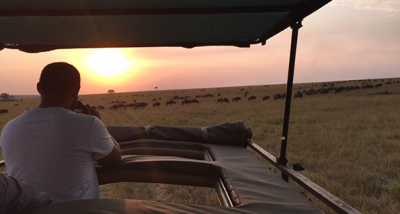 Most importantly we made sure we put together a "Great Value" product, not necessarily the cheapest but well worth the few extra dollars for an amazing experience! We have chosen our dates and direction of itinerary for each country in regards, to the best possible weather and of course the best game viewing opportunity.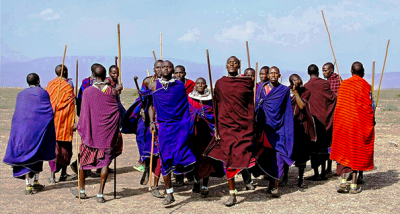 Lastly when it comes to Africa and game drives the best way to travel is in smaller individual vehicles with maximum 6 passengers. To have this small group adventure will cost a few more dollars which is why some people choose to take the overland truck option. Overland trucks these days are not a whole lot less which is what makes our product such great value. We are achieving the small group adventure throughout the day but adding the fun of a larger group back in at night with a maximum of 18 guests. It is great fun to sit by the pool as the sun sets, to discuss and compare the days experiences.
Gools and Thommo have chosen a great variety of accommodation throughout the itinerary. Feel free to click on the accommodation links below and have a look at the galleries that relate and this will give you an idea of what to expect.
Choices were made with the consideration of experiencing both lodges and wilderness camps and placing ourselves in the best possible proximity to the action, without too much wasted travel time. Most of our drives getting us from point A to point B will place us all on Safari instantly or taking us through interesting countryside.
Also important was to choose locations to enhance the experience. 2 nights at Lake Navisha Simba Lodge with stunning bush views from your balcony, gives us great access to Lake Nukuru NP.
While 2 nights at Ashnil Mara Camp with its luxury tents within the Maasai Mara NP lets you sit on your deck while watching the game.
1 night at Speke Bay Lodge that looks like a small village spread out on the shores of the lake, allows us to traverse the full Serengeti NP by entering on the west and exiting on the east. Other groups will enter and leave by the same gate on the east only.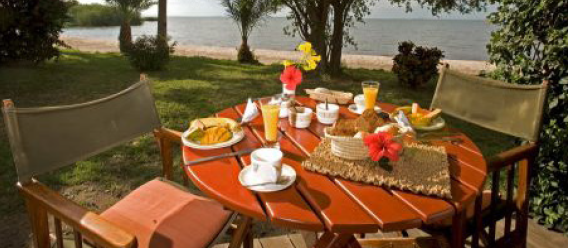 Your 3 nights at Naona Moru Camp where you will sleep peacefully at night, with the gentle Serengeti breeze as you listen in to the night chorus.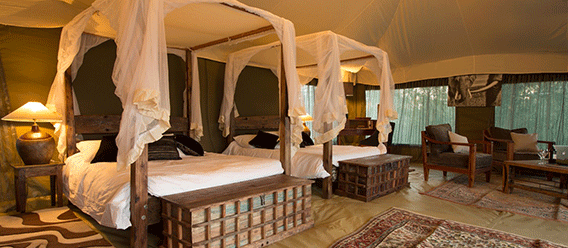 No better location than that of Ngorongoro Sopa Lodge where we place ourselves right on the rim of the crater and enjoy the amazing sunset over the caldera. 1 night here before we cross over to the crater highlands for 2 nights at Plantation Lodge. You will have the opportunity to get out and meet the local people here within their village and markets.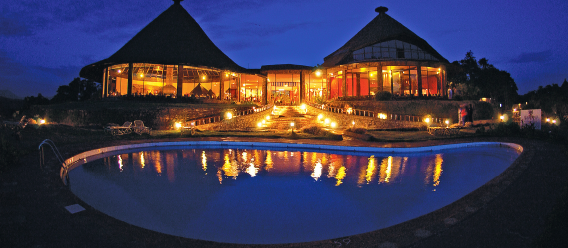 Continuing on, we head for Amboseli NP and have 2 nights in Oltukai Lodge with uninterrupted breathtaking views of Mt Kilimanjaro. It is an eco-rated lodge with excellent facilities and the best spot for elephant watching. Some writers have described it as 'Home to the Gods' and offers true and fantastic African hospitality.
Day 16 we head back to the Boma Hotel Nairobi where we all started from. This hotel is a business type hotel with all the regular facilities but is in an area, good for first time visitors to Nairobi. Nairobi as a city, does require some sharp street smarts and even the well-travelled can get caught out here. So, the Boma is our choice to keep things easy.
Private Arrival and Departure transfers in Nairobi.
15 Nights accommodation with a mix of lodges and wilderness camps.   (1 x 3 night stop / 4 x 2 night stop / 4 x 1 night stop)
All based on twin/double share (single supplement applicable for single travellers)
15 x Breakfasts.
14 x Lunches.
15 x Dinners. (including our Gala Farewell Dinner on the final night of the tour)
Boat and walking safari on Crescent Island at Lake Naivasha.
Afternoon bird watching walk at Speke Bay.
Traditional early morning canoe trip on Lake Victoria.
Gools and Thommo as your hosts throughout the whole tour.
English speaking local Guides for both Kenya and Tanzania.
All Transport and drivers as mentioned in the itinerary.
All National Park entrance fees.
Travel Insurance and visas (Compulsory)
Expenses of a personal nature such as alcoholic drinks, snacks, laundry, telephone calls etc.
Tips and gratuities for the Kenyan and Tanzanian guides, porters or camp / lodge staff.
Any additional optional activities you may wish to add.
Prices are subject to change if there are any government tax increases on hotels & transportation or any  increases in National Park fees for 2019.