16 DAYS | 15 NIGHTS
2023 DEPARTURES
TOUR 1: 23 March – 7 April 2023
AVAILABLE, LIMITED SPOTS!
TOUR 2: 11-26 April 2023
4 SPOTS AVAILABLE!
The heritage villages & the faces of Nepal will be lit up by the backdrop of Himalayan mountain ranges. Nepal – the G&T way!
Our tour focuses on the heritage and conservation of the bountiful history of the people and their places. To get to these amazing places we need to access the backroads to make it happen. Most other tours just stick to the busy main roads and miss what Nepal, in our opinion, is all about. These busy main roads do mean you get to travel in a coach which does make it cheaper, but you will not get to see the real Nepal. The green rolling hills and fertile valleys, the majestic high peaks above arid valleys, giant mountains linked by suspension bridges and the people and their family life.
The Nepalese people are the most resilient we have experienced. Their smiles shine brighter than the sun and their hearts are warm and always open to welcome travellers to see their beautiful country. They have bounced back from many adversities and their country is now back on display.
Travellers for many years have always seen Nepal as a trekking only destination. Thommo and I have certainly done our share of that in the past. We are very excited to have now found a new way, to allow others who may not want to trek, to witness firsthand what we have awed over each, and every day during our Himalayan treks.
Our great friend Niraj whom we have known for 23 years, owns a long standing and fantastic adventure company in Nepal that has operates those trekking journeys. He has arranged many personal itineraries for us already. We met up with him and simply asked if it was at all possible to see what we have seen trekking, but with a softer approach.
Niraj joined us on our research trip for our Nepal programme and with his amazing knowledge and local contacts we pieced together an experience that will delight people with all different abilities. We inspected many different properties and played with many different itineraries and bounced many 'out of the box' ideas and finally developed an itinerary that is as diverse as our groups will be.
There is something for everyone on this tour, including gentle walks, longer hikes or independent strolls around the villages in which we stay. The decision on how active you want to be is yours to make on the day.
You will witness the happy lifestyle of the Nepalese and experience just how simple life can be. If photography is your thing then we guarantee you will get your fill. The very typical sight of monasteries and temples perched high on the hill with a backdrop of clear blue sky and surrounded by many colourful prayer flags, just one sample of what you'll see. You will be able to do as little or as much as you like!
Our 4WD fleet will make it feel like a private tour and gets us that access that we want without the effort. No-one should miss out on this part of the world and we have made sure that you now don't have to.
Be sure to read our points of difference below as this will make sense as to how we have designed and costed our Nepal programme.
There are some great tour companies out there but they all tend to follow the same path and the same style. We are not re-inventing the wheel but feel that our 'product' has some very distinct differences and some personal touches that make our travel experience quite unique. For our existing G&T Clubbers, you know all of this but for the benefit of our new comers and of course your immediate family and friends who we invite to join you please see below how we differ.
G &T believe that the accommodation is way more than just a bed for the night and should add to your holiday experience.
We have made sure to have several multi night stops including four 2-night stops and one 3-night stop as this gets us out of the cars and allows us to enjoy discovering the allures of Nepal on foot.
The search for great accommodation was proving to be a minor challenge at first but once we thought outside the square and utilised the bonus of being able to access the backroads, we found some absolute gems, many of which are a tribute to the heritage of Nepal.
Due to the detailed restoration and conservation undertaken by the artisans we are sure you will appreciate their uniqueness and style!
We were most considerate of location, spectacular views, heritage style, comfort and facilities. Not the cheapest option but well worth the extra dollars to have this truly unique Nepal Himalayan experience.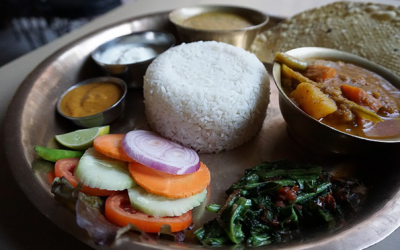 G&T believe that the food should also be a highlight of your holiday experience.
Unlike other destinations we don't have the option to choose our restaurant dining experience each night. This is due to the remoteness of the area and the developing nature of the country. You will note that most meals are included and therefore it was important that we chose accommodation that will provide healthy and interesting options knowing that supplies in many areas are limited.
We are very excited to report that we have tested the menus and eaten at our selected stays, and the food was great. With the exception of course of The Mustang Resort (which was not officially open when researched) we have no reason to believe that it will be nothing short of fantastic. Our Special Farewell Dinner has been designed around amazing food that reflects the country's cuisine. This dining experience will be one to remember.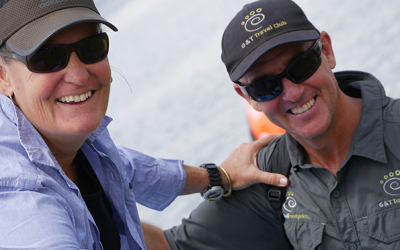 Having both Gools and Thommo along as your hosts will give you something no one else can match. We will be with you throughout your adventure looking after you personally.
We are there on the ground making sure that everything goes to plan and we are also able to negotiate any minor changes that may need to be made. We can assist in case of emergencies, not that we expect any! We can assist with deciphering the menu, bargaining for souvenirs and help ensure you enjoy a hassle free holiday.
You will be in a small group environment with an extended support crew on hand. A national guide and several local village guides and Gools and Thommo. This means you won't be rushed or left behind while in the bazaar or on the trail, which happens on some guided tours. This has always been a 'bug bear' of ours when we do participate in group travel.
Come with G&T and we will make sure that you can walk at your own comfortable pace. You'll have time to stop and look at things, you'll have a chance to get that shot without feeling rushed and you'll be able to stop and buy something without losing the group.
Most importantly we have made sure to put together a 'Great Value' product, not necessarily the cheapest but well worth the few extra dollars for an amazing experience!
We have chosen our tour dates and the direction of our itinerary to coincide with the best possible weather. We have made sure that the itinerary allows for ample time for relaxation and plenty of time to be active. This is a 'premium comfort' tour and a great way to explore Nepal.
Our idea with Nepal was to present a fabulous Himalayan adventure that everyone could enjoy regardless of their fitness level. We took the time to put together an amazing itinerary that reaches the splendour of the Himalayan vista with natural flow to maximise our time and experience.
Our chosen route is one that will 'wow' you every moment of every day, and it will get you up close and personal with the local Nepalese people and the Himalayan range.
The way we are going to do this is by travelling in a small fleet of 4WD vehicles which does cost a little more but will allow us to travel the 'backroads' and access the small villages and the expansive views of the giant snow-capped peaks. It also gives us complete control and flexibility throughout our daily activities. Our group size will be a maximum of 15 guests due to the split across the fleet. Maximum of 3 guests per car.
We will encourage you to share the experience with different people as you can swap and change vehicles as you wish. Generally, there will be 3 guests in each car but if 2 couples are travelling together you might like to share 1 car as a group of 4. You can change cars each day as well which means different drivers with different stories.
Gools and Thommo  will simply move around the cars to fill those single seats where needed.
TOUR 2020 ACCOMMODATION GALLERY
Accommodation at selected hotels with daily breakfast

15 breakfasts, 11 lunches, 11 dinners PLUS our G&T Dwarika's 9 course Gala farewell Dinner on night 15 of our tour

Private transport where indicated
Arrival and departure transfers
Private 4WD jeeps for the group. 1 jeep for a maximum of 3 paying passengers, unless you are travelling with friends and want to travel with 4 people
Pokhara to Kathmandu flight
All activities/ tours/ visits as indicated in the itinerary inclusive of applicable entrance fees/ permits
Services of accompanying English speaking tour leader/guide throughout the trip
Services of local guides as required
Visas
Please make sure you have 6 months passport validity
Travel insurance
Meals not listed in the itinerary
Beverages
Activities/ tours/ visits not mentioned in the itinerary
Tips and gratuities. Gools and Thommo always suggest that our groups participate in a group tipping kitty to simplify the 'tipping' process
The tipping kitty is USD $8.00 per person per day per paying guest. Total USD $120.00 cash payable on day 1 of the tour. This covers all tips for porters/drivers/local guides/hotel staff etc for the duration of your trip