The G & T Travel Club started in 2017 with the very first tours kicking off in India and Sri Lanka. The concept of the Club however was hatched several years earlier. Many travellers that had travelled with G&T in the Kimberley wanted to know where else 'Gools and Thommo' either guided and ran tours. That question got G & T thinking!
Gools and Thommo had a long list of fantastic trusted International tour operators that they had dealt with during their careers as Travel Agents. They decided that they could utilise all the international travel experience they had along with these great travel industry contacts, combined with their love of travel and knowledge of guiding great tours, to offer a new way of travelling to their new group of travelling friends.
A huge number of travellers had already suggested that they would 'go anywhere' with G & T based on how well they were looked after on their Kimberley tour. These Kimberley tour guests had complete faith in Gools and Thommo and were up for any adventure that they would offer.
Many of these travellers also asked to be added to the Travel Club mailing list for future adventures. The invitation to join the club now goes out to those who show interest while on tour with G&T and to those who would be a great fit for the club.
'Clubbers' are then updated by email of the upcoming destinations and the tour dates. This invitation is also extended to their immediate family and friends. It's a great concept that just works with so many like-minded people choosing to join the G&T adventure!
Once you have 'joined the club' and travelled with G & T then you will become a' VIP Clubber'. This will guarantee that you will receive your invitation a little before those who are yet to experience the Club. It is worth noting that every tour and destination offered so far has booked out in just a few weeks of the tour launch date. The Travel Club already has several guests who have now experienced and signed up for each, and every destination. These repeat guests are a great testimony to the G & T style of travel.
It is apparent that G & T Travel Clubbers love the concept and love the way that Gools and Thommo run the club. If you are interested, then you best join up and come travelling with them and experience the difference for yourself.
The Founding Directors – Gools & Thommo
The hospitality industry appealed to Gools immediately. Being in control of your customer service levels was really rewarding and satisfying. It was the obvious job to have once she launched into her travels.
She moved all around Australia filling many available positions within the Hotel and Restaurant chains. Once she had the level of experience she needed, she headed off to London and took advantage of the working holiday visa for what ended up being 3 years away from home.
During that time away, she travelled through much of Europe and then spent her last 6 months travelling through Africa before returning to Australia. She met some amazing new friends along the way and totally loved the myriad of cultures and cuisines. Her first job back in Australia was inspired by touring throughout Europe and overlanding in Africa.
Highly enthused by her travels she changed careers and landed a fantastic job in the Northern Territory as a tour guide/cook with AAT Kings. Following her first taste of guiding she returned home to further utilise her travel experience as a Travel Consultant. It was a perfect fit as she could share her valuable travel knowledge with others and guide them towards the best travel choices and experiences.
Successfully she stepped up to manage her first Travel Agency really enjoying the challenges of goal setting and people management. The next 10 years zoomed by and included managing a second Travel Agency along with many exciting overseas holidays.
Becoming a part owner with Thommo and 2 others with The Adventure Specialists she opened another new Travel Agency. The move was great, and it felt like a fresh start however it still required working in an office. 
An amazing trek in Nepal with all that clean air and open spaces reminded her that sitting in an office was not so good for your health. Returning from Nepal, Gools and Thommo decided to do what they both enjoyed so much before, they went back Tour Guiding. The Kimberley was calling out for experienced tour guides and they haven't looked back. Currently working with Adventure Wild Kimberley Tours and operating out of Broome WA gives them the healthy lifestyle that they were searching for and gave them the opportunity to care for and look after their guests while giving great service. All the things that are important to them both.
If you have been looking for a new adventure, travelling with a great bunch of people, become and G&T Travel Clubber!
Weekends were filled with sporting activities namely football and then off- road motorcycle racing. This was his way of life until his late 20's when his life hit 'a fork in the road'.
He spent hours watching a new documentary series on TV called 'Lonely Planet' and was mesmerised by the scenes he saw playing out in front of him. There was a big world out there that he wanted to see so he sold the motorbikes, quit his job and set off on a 6mth trip around the world, first stop Africa. Just 2 weeks later he found himself being repatriated home to Australia with the help of the Australian Embassy in Nairobi. Upon arrival he was transported to hospital, a victim of a nasty road accident in Tanzania.
Things had not gone to plan! After 6 months of rehab and recovery time he set off once again on a new 6 months 'around the world' trip. 
This adventure changed his life! The last 2 months in Nepal and India re-set the way he saw the world.
The year was 1996, the world awaited, the adventures continued!
A few years later he found himself leading trips throughout Thailand, Laos and Vietnam with Intrepid Travel. During his time with Intrepid he had chance encounter with an English Expedition Leader that worked in Eastern Africa. It sounded really, exciting and Thommo wanted a piece of the action! A few phone calls later and Thommo was soon driving Overland Trucks on expeditions up to 11 weeks in duration from Kenya to South Africa.
He eventually made his way home to Australia in 2006 and found a new role in the Travel Industry as a Travel Agent
In 2009 a great opportunity presented itself for Thommo and Gools to work as Tour Guides in the Kimberley region of Outback Australia. Thommo was not happy working in an office and working in the 'Kimberley' seemed like the perfect option!
It has turned out to be a great place to live and work during the short 'tourist' season and they are still there now!
Over the last 20 years Thommo and Gools have travelled to 70 countries and Thommo has led tours in 15 of them. During this time, they have both had some amazing adventures and met some incredible people. It has been a great journey!
Thommo and Gools now have plenty of time to show you their world. Why don't you join them?
THE G&T GUIDES & GROUND OPERATORS
Donna Duggan – Donna, our East Africa partner spent much of her early years working in her family owned fresh produce shops across Brisbane. She worked hard to save the money needed to make the journey to London in the early 1990's where she found work as a nanny. Her connection with Africa first started in 1995 when, after being in a cold and grey London for too long, she saw a documentary on the BBC about Zanzibar and it caught her attention. Zanzibar was added to the top of her wish list. After much planning Donna and her friend arrived in South Africa and began their independent journey throughout Southern and Eastern Africa. They travelled on trains, buses and ferries all the way North to Zanzibar.
She returned home to Australia and in 1999 and enrolled as a mature-age student to earn her Bachelor of Nursing degree. She finished her degree in 2002, and then in 2003 she enrolled in a Masters of Midwifery course but after just one semester, the call of Africa was too strong! She says '" was desperate to do something with what skills I had learned so I looked up volunteer opportunities and finally found something that seemed to suit. But first I wanted to go back and see Tanzania again, and so in 2004 I set off on my own to climb Kilimanjaro – and yes, go back to Zanzibar! This trip cemented in my mind that Tanzania is where I wanted to do something to try and help the local people". Fast forward to now and Donna is now firmly entrenched in the tourism business having established her company over 10 years ago. Her 4WD vehicle fleet is modern and well prepared for the rigours of remote African travel and she has established an intimate collection of mobile and semi-permanent camps located in the prime wildlife viewing areas of Tanzania's Northern Safari Circuit.
Hassan Magal – Hassan is a diverse character with many skills acquired in the industry with over ten years of service. These skills have been honed in no other place but the `Serengeti National Park', his second home. Hassan is the Operations manager of the Camps Portfolio. This role is as diverse as his character but "I love the challenges and the people that come with it" he says with a broad smile on his face. No longer evading lions at night and dancing with the clients but rather making sure all runs smooth for others to do that which he did with so much dedication.
Rick Thomas – Rick Thomas came from humble beginnings and has been a very keen student and observer under his late cousin Naseeb. He fills the procurement division and oversees the workshop, which is the heart of the operations and magic appears from behind those walls. A creative individual that sees the potential outcome in every project he commits to. 'I like to share ideas and thoughts with my fellow directors and grow with them in this company' says Rick, with a smile that embraces humanity as he cares for all that come across his path.
Abdallah Ngalapa – Abdallah has lived a life that only a few have dreamt of! Early days in the Serengeti National Park where he developed his knowledge and skills, then on to become a multi lingual guide with 6 languages under his belt. Revered by others and respected throughout the guide industry in Tanzania. With all these fine qualities, Abdallah is the head of the workshop logistics and vehicle management department. "Every day is a beautiful day to be with people I like to be with', he says. 'To get some sanity at times, I run into the bush with clients and do that which I love to do, share my knowledge".
Established in 1974 as a small adventure travel agency, our operator has grown into a major adventure and leisure tour operator. The company owns a fleet of tourist transport and is fully equipped to cater to every type of Adventure Tourism including Trekking, Mountaineering, Sailing, White Water Rafting, Camel, Horse and Walking Safaris.
The company is backed by a network of offices and local representatives across the country with a team of professionals having considerable experience in the tourist trade. The founding members/directors have more than two decades of experience in the travel industry and have led a number of treks, tours and expeditions throughout the country. 60% of their activities are in the mountains and deserts where the means of transport is limited to horses, mules and camels. The regular inflow of tourists into these remote areas provide employment to the locals thereby contributing to their local economy. Utmost care is always taken to conserve the forests, ecology and environment.
Nadeem Sheikh – Nadeem obtained a Bachelor of Arts degree at Kashmir University before following his father Bashir into the family business in 1995. After a spell as a Tour Leader he is now responsible for Marketing and also heads up the Operations Department. Directors of course always claim every tour is their favourite tour. But we put the rest of the team on the spot. So here they are, with their 'favourite tours'. 
Om Prakash – Prakash joined the company in 1992. An experienced travel professional he is in charge of the tour development department. Put on the spot and asked to choose a favourite trip, Prakash quoted the following: "Actually, our Rajasthan Desert Safari is a favourite. A classic adventure trip it's stood the test of time and it has everything; people, colour, dramatic landscapes and iconic architecture. It's a challenge to come up with new tours to rival it".
Dilip Koul – Dilip joined the company in 1987, starting in the administration department. He is now in charge of the transport and ticketing department. Where would he head for if we let him out of the office? "That's easy, Sikkim and Bhutan are so different to life here in Delhi that I would love to join our 'Journey to the Himalayan Kingdom.' Every time I ticket the internal flights for this tour I want to join the tour myself!"
Tsewang Dorjey – Dorjey Tsewang is an experienced trekker and hails from Ladakh, where he learnt his craft before joining the company in 2005. He is now the Manager of the trekking division of the company. His favourite tour? "Well it has to be our 'Kashmir Ladakh Adventure' as it introduces our clients to my homeland and the Buddhist lifestyle there, but also offers time in the mountains on a trek which is within the capabilities of any reasonably fit client, so they see my mountains too!'" 
Avi Nathawat is the consummate professional. A native of Jaipur, the 'Pink City' in Rajasthan his historical knowledge base is unrivalled. With over 10 years of Tour Guiding experience you are in great hands if Avi travels with you across his beloved country. If you are lucky enough to have Avi as your guide, and you are interested in Indian history, make time (lots of it!) to sit down with him and chat. His sense of humour is infectious, and he is always comfortable to share a joke, often at his own expense.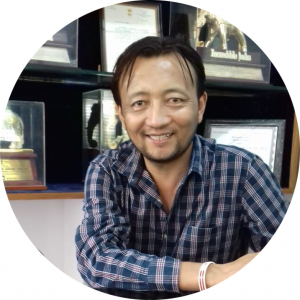 Our Nepal operator incorporated his business in 2001 but has roots in the Travel Industry dating back to 1980. Niraj and his team's philosophy is steeped in the traditions, heritage, culture, values and the beliefs of the people of Nepal.
They embrace a strong commitment to carbon-neutral policies within Nepal. It is extremely evident that 'responsible tourism', sustainable practices and involving their local communities are the trademarks of their business. Whatever trip style we discuss with the team, we know that your personal well-being, both physical and material as well as intellectual and spiritual, is of their concern.
Niraj: Founder / Team leader. Being a people person by nature and having a deep-rooted fascination with travel this drew him to the travel industry nearly 25 years ago. Having been through the thick and thin of it all and having firmly established himself as one of the movers & shakers of the tourism fraternity in Nepal, he ensures unwavering direction and is there to give the very best advice, service, product and the guaranteed delivery of all three.
Abhi: Chief Operating Officer. Born and brought up in the oldest part of Kathmandu which at the formative years of tourism in Nepal was the hot-bed of hippies and back-packers. Alternative forms of music brought in by travellers staying and frequenting his neighbourhood and shared interests in spirituality and nature brought him closer to those travellers. His perspective in life took a big turn when he went on his first mountain trek. Having dabbled in diverse professions, he finally found his footing in tourism. The last 12 years has seen Abhi leading tours & treks in the region (Nepal, Bhutan, India and Tibet). It has also led to him developing products and operating trips. He has come a long way to now personally live and breathe tourism. He's the one who keeps the wheels rolling in the Kathmandu office.
Dil: Reservations Manager/ Operations Co-ordinator. His is a tale that movies are made about – a downtrodden but ambitious, hardworking (with the memory that can rival a computer!) and ever smiling (!) young man who has made his way from rural east Nepal to the city of Kathmandu 25 years ago. Starting out as a trek porter, then an assistant guide, he was well on his way to becoming a trek leader before a freak bike accident injured his leg. Unable to trek for long durations anymore, he started work in the office. Education is not his forte but that didn't hold him back. His extensive knowledge and experience makes him a consummate professional at what he does, which is why he is so good at managing reservations and assisting in operations.
Palpasa: Executive – Sales, Operations & Purchasing. Once a chirpy young girl and now a hardened professional she aimlessly and impatiently knocked on the doors of one of the largest tour operators in Nepal 10 years ago. She was in search of a job after completing college and landed herself as the personal assistant to Managing Director. She was quickly hooked on the excitement and charm of tourism and travel. In a matter of few years, she branched out into a job that involved responding to clients and of course discussing her favourite itineraries! As her experience grew she sought a new role and crossed paths with the team 2 years ago.
Our local partner in Sri Lanka commenced operations as a family business in 1976. Current Managing Director/Owner, Nishad, came into the family business in 1989 and has been the driving force behind it since.
A large man with a passion for exploring his Island home, Nishad has spent his lifetime planning holidays for people visiting Sri Lanka. His vast knowledge of every nook and cranny of this Island and his experience of understanding the discerning traveller makes him the best person for us to plan your holiday with.
Nishad personally trains his team and is involved with every aspect of planning and building individual itineraries for our clients. His host of contacts ensure you can sometimes get into places and experiences that no other may be able to provide on the Island.
The team on the ground in Sri Lanka consists of 5 experienced local individuals all personally trained by Nishad and headed by his eldest son Haritha. Having been in operation for over 40 years, the company has a team of senior and knowledgeable Chauffeurs and National Guides who will be your Sri Lankan 'team' during your holiday.
Haritha Wijetunga – Nishads eldest son, Haritha, heads the operations team in Sri Lanka. Though he has been an employee at the company for just over 2 years, Haritha has been unofficially engaged with the business since his teenage days due to his interest in the island. He has the same travel bug as his father and enjoys splitting his free time between the jungles and beaches of Sri Lanka and exploring other parts of the world.
Tikiri Dasanayaka quickly proved to us that his country was his passion! His knowledge of all things Sri Lankan never ceased to amaze us. He has been sharing the beauty of his island home with travellers for more than 15 years. His focus is great customer care and maximising every traveller's Sri Lankan experience. These efforts have certainly been noticed as he has been shortlisted on numerous occasions for company Tour Leader awards over the last 4 years Tikiri states: "I have travelled to almost every part of Sri Lanka and my favourite places are historical world heritage sites and the National Parks. As a Sri Lankan Tour Leader, I am very proud to represent Sri Lanka because It is one of the most peaceful tourist destinations in the world. Customer service and warm hospitality is part of our culture. I enjoy my work as much as the visitors enjoy my country because Sri Lanka has just so many things to offer. Your visit to Sri Lanka will be a memorable holiday. Guaranteed!!! Ayubowan!"  (I wish you a long life with good health)